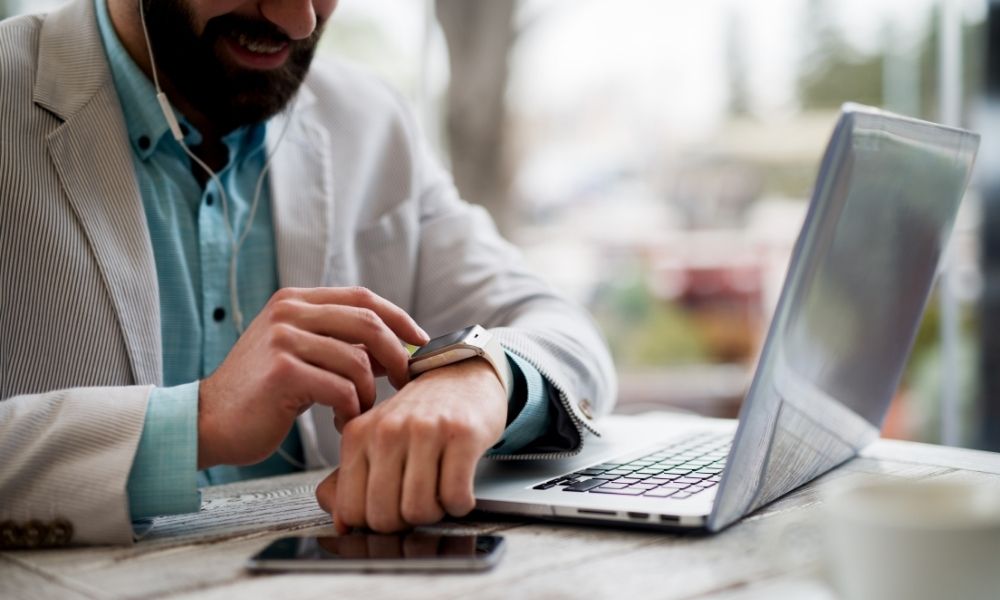 14 Benefits of Having Mobile Time Tracking Software
If you're looking for time tracking software, how do you decide if you need a mobile option? These are the top benefits of having mobile time tracking software. Understand the ins and outs of this solution to determine what's best for your company.
A Simple Solution
TimeTrakGO's time tracking app helps you keep up with your entire staff. Keep track of hours worked regardless of location and make tracking physical timecards a thing of the past. Our employee time clock app allows you to keep track of employees' time from anywhere. They can access a simple, easy-to-understand app from their smartphone to log their hours with the push of a button. Mobile time tracking makes keeping track of hours effortless for everyone involved.
Track Time Anywhere
With mobile time tracking software, your employees can track their time virtually anywhere. If they forget to add a punch, they'll be able to update it as soon as possible from the comfort of their home. Mobile time tracking software allows the best quality of accessible time tracking from anywhere. If your workers need to be able to track their time from any location, mobile time tracking is vital.
Better Track Remote Workers
With mobile time tracking software, you can keep better track of remote workers. Remote working has increased dramatically in the last few years. With mobile time tracking, remote workers can easily clock in from wherever they are to keep track of time spent.
Enable Geofencing
If tracking time from any location doesn't work for you, you can enable our geofencing feature to limit the punches to a specific location. You can use the GPS features to set a designated place where workers must clock in and out. Get an employee time clock app with GPS to ensure your employees clock in from approved locations.
Easily Identify Missing Punches
With TimeTrakGO's time tracking software, you can quickly identify missing punches when it's time to complete your payroll. Reviewing timecards becomes a breeze with our intuitive graphical platform. You can easily visualize the work week and instantly see absences, tardiness, and missing punches. With an intuitive platform, you'll save time and money processing payroll.
Get Accurate Timecards
With automatic and straightforward punching features, you can be sure you're getting the most accurate timecards every week. Old-school time tracking methods can be full of errors and mistakes, but tracking through an app takes punch accuracy to a new level. Getting rid of data transferring is bound to eliminate mistakes, too, so you'll be saving time and money. Eliminate payroll mistakes and errors in time tracking by getting a straightforward time tracking service.
Better Track Payroll Expenses
With precise time tracking software, you will easily keep track of payroll. You'll be able to get exact numbers and easily project how much your payroll is costing you. With accurately recorded data, you'll have the ability to understand exactly how employee time correlates with business costs. Keep track of your time today to accurately predict what your payroll will cost you.
Automate Your Payroll Process
If you're looking to improve your business, you want to automate as much as possible. Better time tracking allows you to automate the payroll process easily. You won't have to spend your precious time meticulously adding up hours. You'll be able to accurately predict and manage where your time is spent and save time by automating your payroll.
Stop Buddy Punching
With mobile time tracking software, you'll be able to cut down on buddy punching, which usually only happens with in-person timecard tracking. Virtually eliminate buddy punching with accurate time tracking software that requires user login every time.
Eliminate Overtime Spending
By accurately keeping track of how much time employees are putting in, you'll be able to predict when they might go into unplanned overtime. Eliminate overtime from costing you extra when it's time for payday. Cut unforeseen overtime spending by accurately tracking your employees' time.
Minimize Unplanned Absences
With accurate time tracking software, your employees will be able to see their shifts and accurately plan their week accordingly. This translates to you seeing fewer unplanned absences from your employees. Everyone gets sick occasionally, but with accurate time tracking software, you'll be able to keep track. Precise time tracking software allows you to track which employees are working ahead of time to minimize the number of unplanned absences. Invest in accurate time tracking today to decrease the number of unplanned absences you experience.
Better Judge How Time Is Spent
With better time tracking, you'll also have better time data. When you look at the time, and record hours more clearly, you'll better judge how each employee is spending their time and where there's room for improvement. This kind of tracking helps you with crucial parts of the business, like performance reviews and tracking productivity—better gauge how work gets done from day to day with accurate time tracking procedures.
Focus on What Matters
With simple time tracking software, you'll be able to save time for what matters. Your employees won't have to stress about finishing time sheets or cards; they can press a button and get to work. You'll also be able to focus more of your time on what matters when you simplify your payroll process. Spend time on the things that count.
Save Money
With all the time you'll be saving on payroll headaches and time tracking errors, you'll be able to save money. Time tracking software is inexpensive, and it's an investment that pays off with the amount of time you're saving on payroll. Save money today by investing in the right time tracking software.
If you're looking for a new time tracking software, consider TimeTrakGO. Our advanced and simple time tracking software makes keeping track of time simple. Get the right mobile time tracking software for your company today!