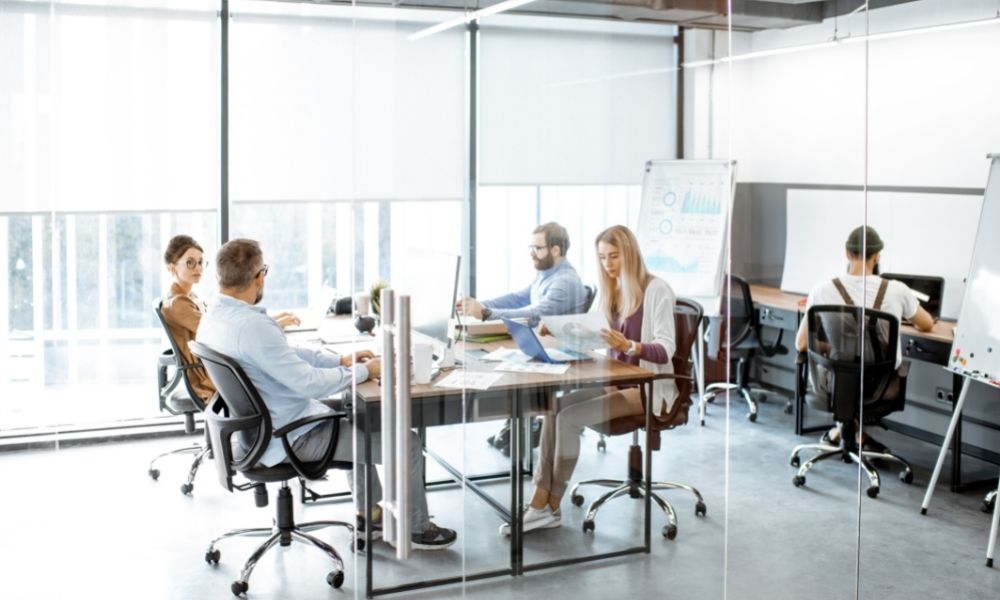 When creating a schedule for your employees, it's best to keep their productivity and life/work balance in mind to ensure they work enough hours and stay ahead of the game. But manual schedules can get messy and inaccurate without the help of time tracking software.
To achieve an effective and efficient work schedule, follow these steps to create a schedule log with time tracking software.
Communicate With Employees About Shifts
The first thing you want to do is communicate with your employees about which shifts need filling and completion. Talking with your team before making the schedule will provide insight into their availability and help you make an accurate work log.
Communication is vital in the workforce and can help you avoid common mistakes. Additionally, your staff will appreciate your honesty and respect for their life/work balance.
Adapt to Changes
You might find that the staff members you had in mind to fulfill a project are unavailable after speaking with them. Or they agree to a specific time and date and call off at the last minute. This is where you'll want to be ready to adapt to any changes that may occur.
Being ready to adapt to anything is critical when running a business. And utilizing time tracking software when creating a work schedule can aid in your preparation.
Determine Who Is Most Reliable
With that said, you'll learn throughout the scheduling process who your most reliable employees are and who needs a confirmation email now and then. When you have a solid group of dependable staff members, you can more confidently and seamlessly create future schedules.
Creating the most accurate schedule you can is crucial in building a strong rapport with your employees because they know they can rely on you to assist them with hour accumulation.
Make the Schedule Weeks in Advance
Be sure to create your work schedule weeks in advance to ensure your employees can plan their engagements around their hours. This will help you prearrange future projects and deadlines to meet the needs of your team.
Although it's possible that your schedule may change within a matter of weeks, it's essential to at least outline who you'd like to work a shift and on which days.
Collect Employee's PTO Hours
When communicating with your employees, be sure you also gather their planned PTO hours. When building your work schedule in advance, you'll have a good idea of who you can schedule and which employee to remove from the schedule log.
It might be helpful to ask your employees to submit their yearly PTO requests at the beginning of the year, so you have a more established scheduling system. This will ensure your employees plan ahead so you can too.
Time tracking software can show you an employee's PTO hours ahead of time so you can create the schedule around that predicted out-of-office time.
Figure Out Who Has Overtime Hours
Here at TimeTrakGO, our employee scheduling and time tracking software eliminates the need for multiple revisions by enabling you to see potential overtime hours before they occur.
Furthermore, when you enter specific hours for an employee, our software automatically calculates the hours, so you don't have to figure out overtime hours manually.
This tool can aid your company in saving money and staying within your projected budget, helping your business thrive rather than survive.
Reach Out to Someone Needing Shifts
A schedule connected to time tracking software can also help you determine who on your team needs additional hours. However, before scheduling that employee, be sure to reach out to them and ask if they're looking to put in more hours with your company.
They might be catching up on specific projects and need the extra hours to finish their tasks. Regular communication about their workload is critical in any industry because it helps you balance their life/work time as their manager.
Work With Team for Best Results
Our time tracking software here at TimeTrakGO allows you to make group edits on work schedules, making teamwork seamless in your business.
Even if you have a small company, your professional team can assist you in populating an accurate schedule. They can provide feedback or approvals on employee hours and PTO requests, allowing you to work on other tasks.
Review Schedule Regularly
When creating a schedule log, it's important to review it regularly to catch any mistakes before they happen. Although many time tracking software tools provide you with the ability to fix errors ahead of time, you want to check it a few times throughout the week to ensure you address any changes.
This will allow you to keep up with different workloads and PTO requests to establish a more efficient system for your business.
Bookmark Website
A great way to create a schedule log for your employees with time tracking software is to bookmark the webpage you're using to make the schedule. It may be common sense, but with running tasks, team management, and everything else that goes into operating a company, it can be easy to forget something so simple.
Time tracking software like ours utilizes a web browser to offer our tools. We ensure that all business owners can access our platform to experience the many benefits of using the TimeTrakGO software.
This also helps save time and frustration if you need to create a schedule quickly. Just hop onto your bookmarked tabs and make your schedule with ease.
Utilize Reputable Time Tracking Software
This is perhaps one of the most important steps to take when creating an efficient work schedule for your team.
You want to make sure you work with a reputable company to create a reliable, functional schedule log. To ensure you find suitable software for you and your company, try to determine why your business needs time tracking software, read customer reviews, and ask questions.
These steps to creating a schedule log with time tracking software will help you create a seamless and efficient time tracking system that your company can rely on.